Well, I've somewhat recovered from that tough loss, so I thought I would cheer myself up with a look at the 2017-18 roster. This assumes that everyone is coming back.
I finally found the perfect Tierney Lawlor picture. Her story and that of her fellow walk-on Polly Pulido warmed every UConn fan's heart. She gave all she had and more and we are all better off for watching her become a leader on the team. Not easy when you only play 3 minutes a game.
Yes, I'm bringing it up, but let me say that the last play of her career is not going to define it. While never the impact player she was in high school, her contributions this year were outstanding. When Nurse sat several games, Chong regularly led the team in minutes played. And as you can see in the picture I selected for Saniya, her defensive play and intensity made even Geno smile.
Not every graduating player gets drafted into the WNBA so it was quite the moment when Saniya's name was called for the 26th pick of the draft. She cemented her status as a draft pick with her senior season and no one deserved that more than her.
Kia Nurse comes back for her fourth season as a real team leader. She brings to the team a defensive toughness that really impacts the game. And her outside shooting in the NCAA tournament was just insane. 22-32? Whew. You can bet she will be a solid 40%+ three point shooter next season. I'm thinking she becomes the starting point guard. Yes, she played that position plenty, but between her and Chong, the lines were blurred who was the point guard and who was the shooting guard. Two true combo guards.

With the graduation of Chong, I think she takes over that roll but when she shares the court with Dangerfield, she will slide over to the shooting guard position. She is still prone to the occasional mistake by aggression. Hopefully she can cut down on those plays in her senior season.
The other senior is the Air Born Gabby Williams. As the season progressed, it was clear she had become every bit the leader that Kia Nurse had been. Her insightful post game interviews were a pleasure to watch. It was great to see her on the final All-American team selected this season and get her name and number eligible for The Wall. Next year, Gabby brings back a ton of skills that will only be even better. She took over some scoring responsibilities in the tournament and I'd like to see her continue that progression. She becomes an even more impossible player to defend and be defended by next season. Her court vision should continue to be the best on the Huskies and with more options, her assists could be even higher.
With her more than likely moving over to the shooting guard position in the starting lineup, she won't have the responsibility of trying to defend the post against bigger players. Yeah, I know, she is not a great shooter. But she doesn't have to be at that position. That being said, she will be interchangeable with Samuelson at the 2/3 positions. At the two or three, against players her size and smaller, she can take them into the post and finish strong, or she can use her strength do drive past them. She will be a nightmare for the opposition with her great defense. With her and Kia defending the perimeter, UConn will make life miserable for the opponent's guards.
I know that many UConn fans were looking for more from Butler. I was one of them. I thought she would be a solid center, garnering starters minutes and maybe even starting in the middle. But she has her limitations. The biggest being her bad hands. But as the resident optimist, I can tell you that I think she really got better throughout the season. You could see her getting into better and better shape and she certainly had her moments this past year. A big body, I can see her contributing more of the same and at times give UConn a twin tower look with Stevens. That is, if she comes back. She is a 5th year season and has other options.
There were countless pictures of Katie Lou shooting the ball. But surprisingly, there were quite a few pictures of her finishing with her left hand. She expanded her game greatly this past season. Whether is was a curl off a screen, or a hard drive with her left hand, or a solid post up and finish, Lou showed everyone she was more than just a three point shooter. Sure, we will remember that 10-10 three point shooting game but Samuelson did what Geno asked - diversify your game. If you are not hitting your shots, do the other things. She had a 9 assist game, and a 7 steal game.
So, what will she do for an encore after an All-American season and a trip to The Wall? I would expect her to have a KML type shooting percentage season, somewhere in the high 40+. She will get more open looks with the new additions top the team. Look for Lou to improve her overall shooting percentage, her assist totals. Just don't expect her to improve her rebounding totals much. She only had a high of 8 rebounds and that was against LSU in her third game of the season. Next season she should have even more open looks with more threats on the team than last year. I would expect her to start at the 2/3 next season, probably starting at the 2 so Gabby can play the 3 and be in better position to use her skills. Can she guard the smaller shooting guards? Some, but UConn is more about team defense than individual, and she did a great job playing Geno's switching defense.
Who would have thought that Napheesa Collier would lead the team in scoring? Only 7 more points than Katie Lou, she became the main offensive threat the second half of the season. Her improvement from last year to this past season was incredible. I mentioned several times this season that she was playling like she did on the Team USA U-18 team a couple of years ago. Playing much bigger than her 6'1" frame would suggest, she also led the team in rebounding and blocked shots becoming an All-American in her sophomore year. Her 40 point effort was just remarkable. So what will we see from her next season? I'm sure Geno would like more of the same. Her penchant for foul trouble won't be as impactful with the larger and more talented roster. But make no mistake about it. She will be a huge impact player again next season.
No action photo of Stevens for UConn, but you can bet there will be some soon enough. I'm sure you are all excited about seeing her finally don the UConn uniform and hit her first basket, grab her first rebound and block her first shot. In her two years at Duke, she was a dominating presence on the court. Here are her first two year stats.

Freshman season - 28.8 mpg, 51% fg, 28% 3fg, 14.1 ppg, 8.2 rpg, 30 blks, 35 stls
Sophomore Season - 31.2 mpg, 53% fg, 36% 3fg, 18.9 ppg, 9.2 rpg, 52 blks, 32 stls

Those are some terrific stats her first two. Geno himself has stated that she will be the best player on the team next year. Quite the hyperbole. We will see how that plays out. But there are some things she brings to the table that will make UConn a much better team next year. At 6'6", she brings not only size but a very mobile big player. She is quick on the defensive end from side to side, a presence that wasn't there last season with the graduation of Stewart. She has long arms and will allow the UConn guards to funnel the offense to her area where she can alter their shots. A year practicing as she did has to have helped prepare her be impactful in UConn's defensive scheme.

On offense she will add another big threat and one that can hit the three pointer. Her increase in three point shooting percentage from her freshman year to her sophomore season was an indication of her shooting ability. If she can maintain that percentage or even improve it, she will be a bit weapon. She is a terrific offensive rebounder and watching Duke highlights, you see how well she does that and score off the rebound as well. Look, you don't average 19 points and 9 rebounds per game without having some serious game.


The question is will we see more of the Baylor game Dangerfield next year? She had a season similar to Jefferson's freshman year as I pointed out in another blog. The stats were similar and in fact, they were better for Dangerfield in almost every way.
I believe she will be the first guard off the bench and Geno will expect her to change the pace of the game, making the Huskies quicker on the court. She showed occasional three point range, and didn't hesitate to take the open three. But she will have to hit a higher percentage than her low 30's. She is certainly capable of that. Geno will have more options next year, so Crystal would have to play much more consistently to keep her minutes. But she should get close to the same 25 minutes that most of the top 7 of the regular rotation will get.
Crystal has all the potential in the world and will be expected to make that sophomore jump. I think she will do just that.
Camara is a 6-foot-2 forward who spent most of her first season coming off the Kentucky bench. She averaged 5.1 points and 4.3 rebounds, but averaged 18.3 minutes over 33 games and started the final 13 for the Wildcats. She was a 49.3 percent shooter and had a season-high 14 points and nine rebounds in a loss to No. 2 South Carolina in February 2016.
Batouly was familiar with the UConn coaching staff from her high school days. The Huskies recruited her out of Blair Academy in northern New Jersey where she played one season with future UConn teammate Andra Hunter-Espinoza. She ultimately chose Kentucky after drawing interest from UConn, Michigan, Virginia, Oklahoma, Northwestern, Louisville and Princeton.
What I like about Batouly is that she will give UConn good size off the bench and someone with terrific strength. She will be a solid defensive performer and a year practicing for UConn had to improve her overall game, even without playing in a real game. I can see her getting 15 minutes per game and helping UConn win many a rebounding battle.
I saw some nice things from Molly early in the season. But as the year went on, her role diminished. She had a chance to carve out some minutes when Dangerfield was out early in the season. But Geno didn't like what he saw in practice and in games and those minutes were piled on to Chong. I'm not sure with this exceptional incoming class that she will even see the close to 10 minutes per game she averaged last season. A great kid that I met at the NCAA's first round before she started at UConn, it's more than likely going to be a long season of cheerleading for Molly. I'm not sure that is what she wants for herself. Time will tell.
Kyla rarely looked out of place last season. She understood her role and in her limited minutes, did what Geno wanted. She ended the season shooting 46% from the field and 35% from beyond the arc. Those are very good numbers for a smaller post player with long range skills. I watched her closely in her minutes and she set solid screens and scrapped hard under the basket. Her problem for next year is not the returning post players. Under normal circumstances, she would see some nice minutes, 10-12. But with Stevens and even more so, Camara, the available frontcourt minutes are even less than this past season. But I refuse to underestimate someone that works as hard as her. She will probably get similar minutes next season and no doubt she will bring great energy to her game on and off the court.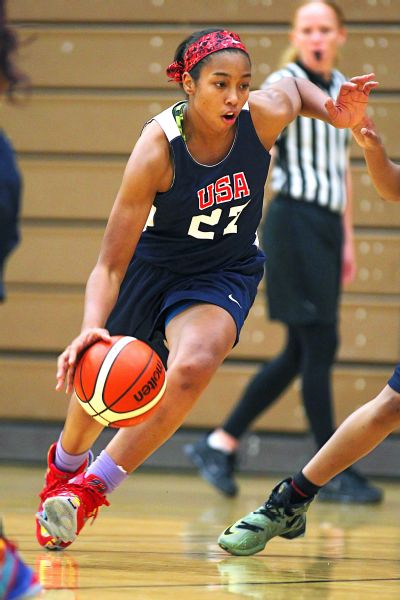 Well, what can I say about the 6'1" Walker that hasn't been said before. She comes to UConn with a college ready body and is the prototypical small forward. With a nice outside shot that has room for improvement, she is strong to the basket with either hand. I love her pull up jumper in the lane. She seems to glide to the basket before leaning to her left and shooting back to the right. Impossible to stop.
She sometimes seems to lose focus on the court, but Geno won't allow that to happen and if it does, he won't hesitate to sit her on the bench. But don't expect that too often. She is that good. Megan can use some work on the defensive end. She has good instincts on defense and will get plenty of steals, but she struggles to keep her player in front of her. Again, that will be worked on early.
You can bet she will be in the top 7 player rotation, getting 20 mpg. A superstar in the making, she will be a role player on this long and deep roster. Anywhere else she would start and get 30 MPG. Patience will be an important word for her to understand.
This young women is a dynamo on the court and excels at almost every aspect of the game. At 5'10" she has nice size for a combo guard and works hard on both sides of the ball. I've only seen her a few times, the last was in the McD's game. She rebounds well for a guard and is not afraid to mix it up. She is another freshman with a college ready body. She can also play a nice point guard, and makes great passes off the fast break. A terrific pull up jumper (as you can see above), she has a great head for the game.
She is intense on the court and looks to love to play defense. Geno is going to love that. Because of that she could be part of the regular rotation, garnering 12-15 minutes each game.
Lexi, the Pied Piper of this UConn roster, is a 6' wing player out of Texas. It's well known that she is just the kind of person that attracts others to her side. She also has a college ready body and a wonderful touch on her pull up jumper. You watch her play and she just looks so comfortable on the court. Loads of confidence, she will make the most of whatever minutes she gets on this loaded roster.
I watched her in the Jordon game and was impressed with her overall game. She is a little slow on defense, but she hit the long range shot, and has a strong body to take her defender into the lane. And she has a sweet tear drop shot.
I don't see her getting more than 10 mpg, but UConn fans will love what they see from this young woman. A natural leader, there will be more to come from Lexi.
Andra Espinoza-Hunter
It was a great birthday present to me on December 30th, 2014 when Andra committed early to UConn during her sophomore year. I don't believe it was much of a surprise. She played with graduating senior Saniya Chong in her first two years in HS before moving on to Blair Academy in New Jersey. She played on that team with fellow first year player for UConn, Kentucky transfer Batouly Camara. She then moved back to Ossining HS for her senior season where she won a state title.
Andra is a 5'10" shooting guard who took a huge step up in her game her senior season. All the evaluations I have read about her game says she has a nice mid-range game, is a good defender and a college ready body. Yes, all four freshman have college ready bodies. All good things. They say she has range beyond the arc. But that is now quite the understatement. This young lady can really shoot the long ball. She had some remarkable games her senior season averaging 36 ppg and hit over 100 three pointers.
I'm not sure what to expect from her in her freshman season at UConn. As we saw with her former teammate Chong, sometimes big scoring in HS doesn't translate to college success but she is physically ready to play at the college level. And she has one of the best smiles ever. That has to count for something!!
Look for her to get around 10 mpg, enough to get a taste of the increased difficulty of college ball and to show Geno what she can do.
As I wrote this analysis of the 2017-18 team, I was amazed at the depth of the team. 14 deep, possibly a 10 player rotation in games against the better teams, a crazy good bottom of the bench. It boggles the mind how good this team is.
My guess at the starting lineup is senior 6' Nurse, junior 6'3 Samuelson, senior 5'11" Williams, junior 6'1"Collier and junior 6'6" Stevens. That's a team with great passers, great shooters, great rebounds and great leadership. All upper classmen. I just can't see anyone coming close to this team.
Add to that the first 4 players off the bench of sophomore 5'5" Dangerfield, sophomore 6'2" Camara, senior 6'5" Butler and 6'1" Walker and you have an amazing rotation.
It will be tough for the remaining 5 players, Bent, Irwin, Coombs, Gordon and Hunter-Espinoza to see much playing time. The minutes have to come from somewhere for the regular rotation. Because of that, while I wrote this assuming everyone will be back next year, I have a feeling that won't be true. I have no inside info on that. But looking at the team, it just seems logical that 1 or 2 players will leave before the start of the season.
Geno will have so many options next year. I mentioned the starting lineup. But he can go really quick and smaller with a lineup similar to last year with Dangerfield, Nurse, Williams, Collier and Walker.
Or he can go really big with Nurse, Samuelson, Stevens, Butler and Camara.
So many options, and Geno will be like a mad scientist, trying to find the right combination. That being said, Geno will want to settle in to an 8-9 player rotation early. He just feels more comfortable that way. But he certainly has experience with long benches and sharing minutes. The 2001-2 team comes to mind and the last two USA Olympic teams as well. He will figure it out.
As good as the 2016-17 team was, they didn't have the experience to win the championship. That showed clear as a bell in the Mississippi State game. But next year, they will have 6 upper classmen in the rotation and an experienced sophomore in Dangerfield.
If Stevens is incorporated into the team early, UConn will be as good a team as we have seen in Storrs. Scary to think that, huh. At least for the opponents. I can't wait to find out!! One thing for sure. If you play the entire fourth quarter with the bottom of the roster (Bent, Irwin, AHE, Gordon, Coombs, or Butler) You won't see the same low scoring output. That is why my one prediction besides another undefeated season and a National Championship is that all the UConn scoring records will go by the wayside.
I was going to do a statistical projection, but with 14 players, I had no idea how to keep it at a total of 200 minutes. And every time I added up my ppg projections, I was at around 100. That's not going to happen. So I'm going to let it play out and rely on Geno.

But I did see this breakdown from a friend of mine on the UConn board. I thought it was worth sharing.

******************************************************************************

From CFerraro -

*Collier - Last year - 30.2 minutes - This year - 24 minutes
*Samuelson - Last year - 32.1 minutes - This year - 24 minutes
*Gabby - Last year - 29.3 minutes - This year - 24 minutes
*Nurse - Last year - 30.6 minutes - This year - 21 minutes
*Stevens - Last year - 0 minutes - This year - 22 minutes

*Subject to change during blow-out games and close competitive games(which I think will be precious few).

Crystal Dangerfield - Last year - 24 minutes - This year - 20 minutes
Natalie Butler - Last year - 15.9 minutes - This year - 11 minutes
Kyra Irvin - Last year - 7.8 minutes - This year - 8 minutes
Molly Bent - Last year - 9.3 minutes - This year - 3.5 minutes
Megan Walker - Last year - 0 minutes - This year - 15 minutes
Batouly Camara - Last year - 0 minutes - This year - 8 minutes
Lexi Gordon - Last year - 0 minutes - This year - 6.5 minutes
Makayla Combs - Last year - 0 minutes - This year - 6.5 minutes
Andra Espinoza-Hunter - Last year - 0 minutes - This year - 6.5 minutes

Total minutes - 200

*******************************************************************************

I'm not sure that Nurse will get the least amount of minutes of all the starters. And Coombs might demand more minutes with her excellent play.

It was a good try by my friend Charlie.


Well, that's it. Enjoy the off season but more than that, enjoy the prospects of next year. It could be a doozy!!