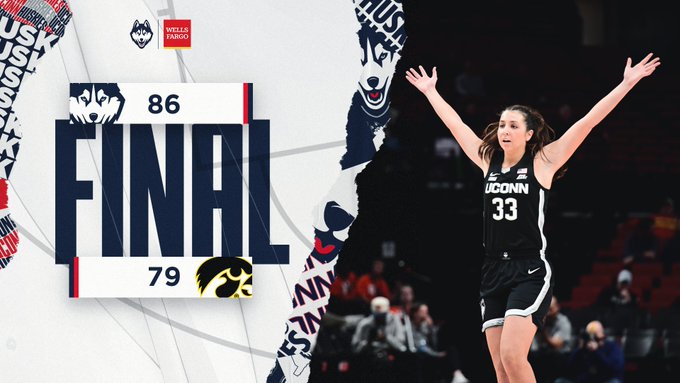 Whew, what a game. And what a team.
In a game of runs, UConn took over midway through the fourth quarter to finally put away Iowa winning 86-79.
I posted this already in my daily blog but it deserves to be repeated.
Iowa hits a three pointer at the 6:21 mark of the third quarter to take a 52-41 lead. Geno calls a time out. He is calm and cool when talking to the team. So what happens? UConn goes on an 11-0 run to tie the game forcing a timeout by Iowa. Seven points by Fudd ending that run with a three pointer. The freshman Patterson added the other four points.
Iowa bounced back from UConn going on a 20-5 run over the last 6:21 of the third quarter. Down 61-57, the Hawkeyes went on a 9-0 run to start the fourth quarter in the first 3:03 ro rkw 66-61 lead.
After an exchange of a few baskets to make the score 70-66, the Huskies went on another run, this time 10-0 behind Ducharme and Lou to take a 79-70 lead with 3:30 left in the game.
Clark did her best to get Iowa back in the game but even her two LONG three pointers weren't enough.
This is a classic UConn share the ball team. On their 38 baskets they had 30 assists. Tremendous!
Full credit to Iowa. They played a great game. They will be a tough opponent for anyone this year.
For the game UConn shot 55% from the field, 40% on threes and outrebounded Iowa 44-28. And this without Dorka Juhasz, their biggest player.
Reaction from Iowa perspective
Post game with Iowa Coach and Players
Geno Auriemma and Azzi Fudd shocked at the conditions that @IndianaWBB and other teams played in out in Vegas at casino ballroom in which players had to bring own towels from their rooms and a big-screen TV was used as scoreboard. pic.twitter.com/Sv3ymkpeOZ

— Jeff Goodman (@GoodmanHoops) November 27, 2022

******************************************************************************

Game Quotes from
Geno
"Dorka's not playing Friday and she probably won't play Sunday ... My guess is when we get back, she will be looked at and then there's gonna be some rehab starting but I don't think she's gonna play next weekend, Friday or Sunday."
"Nika and I have a great relationship: I don't like the way she plays, she doesn't like the things I say to her... She always does enough where she recognizes 'I gotta be better.'"
"Nika Mühl said she was "really bad" today despite her 13 assists and great defensive job. She sets the tone for how tough this team is
because she is so hard on herself."
"The team didn't feel good about themselves at halftime, but then took control of the game. I have to give kudos especially to Azzi Fudd and Aaliyah Edwards."
"We have a will to win. I think that was evident today."
"

We talk about Caroline, the staff, and sometimes we just shake our heads and go, 'I don't know what makes her good, but, damn, she's good. I still can't figure out why she's good, but she's good. She's a tough competitor."
"It's taken some time and we're not quite sure if Caroline's 100 percent, 90 percent, 80 percent, so I just keep rolling her out there, gauging how she feels and how she looks, just figuring at some point, it's going to start to show itself."
"The best thing anybody can say about you is 'you're a great competitor and she's a tough kid and she wants to play very badly. She took another little bump on the back of her had, and I was worried about her, but she said, No, I'm okay. So to get her back in addition to what we've been doing, that's pretty comforting going forward."
"You don't know if you have it until you're put in that situation. You don't know how tough you are. You can talk about it all you want. At some point, you're going to find out. We just beat some really good teams in the span of 12-13 days. We have another one this Sunday [Notre Dame] with a conference game in between. You have to be able to bounce back, quarter-to-quarter, possession-to-possession, game-to-game. That's what prepares you for what happens in March."
"This team responds. I knew we were tired and it was a struggle, and against]a team that just keeps punching you. And Azzi, she punched back. Being tired and facing all the attention she faces, she's really been remarkable since Paige got hurt."
"It really was difficult to play against these guys. I don't think we felt really good about ourselves at halftime. I thought we came out in the third quarter and really took control of the game."
"There's nothing that Aaliyah does that surprises me. There's certain players on my team I expect certain things. So for Aaliyah, getting a double-double, that should be the baseline for her, it should never be lower than that. It's a lot. But you're a junior, man. You're a junior playing at UConn, you've got to be like a pro. Our juniors and seniors, they've got to play like pros. I mean, nobody gets a medal for showing up at UConn, there's no praise if we finish fourth. So you have to be a tremendous competitor, and Aaliyah is right there, man."
Game Quotes Iowa Coach Lisa Bluder
"Ducharme was a difference-maker. You go on statistics. We know she's a great player, but you also go on statistics and she hadn't been doing that this year. You have to rely on those numbers a little bit."
"They found some openings in our zone defense, which had been pretty good up to that point. We tried some different things, but nothing seemed to work for us defensively."
"We had a great first half, but they outscored us by 10 in the third quarter, 26-16, and that was the difference,".
"Azzi Fudd really came to life in that third quarter. I was really pleased with our first half. If it wasn't for that third quarter, but yes, we play four. And we missed some shots in the fourth quarter that we usually make."
******************************************************************************
UConn Player Evaluations
When a player wins MOP of the tournament how can I not make her Player of the Game? And she was also named Big East Player of the week!
What a change in a player from one year to next. I said her freshman year she was going to end up like that Baylor player Nalyssa Smith. Then her sophomore season happened and I thought I was totally wrong about her. I'm back on the Edwards wagon as matching Smith's accomplishments. In her junior season Smith averaged 18 points and 9 rebounds. Looks like Edwards is going to exceed this!!
In this game, she was just terrific. In 35 minutes he scored 20 points, grabbed 16 rebounds and added 6 assists. Just a great game. And her defense on the Iowa center was outstanding. Mostly playing Czinano 1-1, Aaliyah held her to 8 points, 11 below her average.
Edwards was 10-16 from the field and several of those were mid-range shots. She has really expanded her game and it showed against Iowa. It will be hard to keep her off the AA list if she continues to play like this.
I might have given the MOP to Azzi. I wouldn't have complained if she won it. Her second half scoring was so important to the win. Two points in the first half and 22 points in the second half and her three pointers were back breakers for Iowa. Like Nika, Fudd player all 40 minutes. She was 10-19 from the field and 4-10 on threes for her 24 points. She also added 4 assists and zero turnovers. One of these games she will have 40 minutes of hot shooting and you will see a 40+ point game. It's coming!!
Nika Muhl
This young lady surprises me every outing. Coach Dailey said she was under the weather but still player all 40 minutes. Her defense on Clark was terrific. No one can shut Clark down but Nika made life difficult for her. Clark was only able to to make 9-24 shots and 2-11 threes. Way below her production. Muhl only scored 3 points, but she had her third straight double digit assist game with 13. That is a UConn record with Sue Bird the only other player with 2 games with double digit assists. That is some great company for Nika. She takes control in every team huddle. A true leader.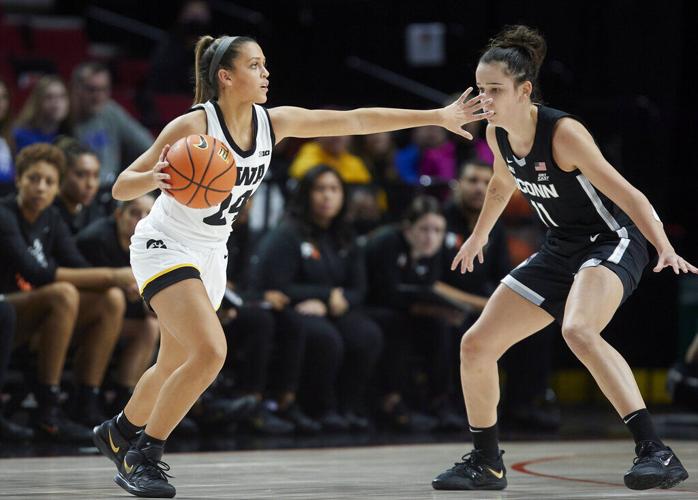 Not her best game but the threat of Lou hitting her shots opened up the court for others. She played 32 and was 5-11 from the field and 1-3 on threes. She added 1 assists and 5 rebounds. She is really getting the UConn system and will only have better games in the future. Like the picture shows, she always has good defensive position.
This was another solid game for Griffin. Playing 23 minutes she was 5-6 from the field for 10 points, with 6 rebounds, 3 assists, 2 steals and a block. Oddly, she was the only minus on the +/- for the team. I guess she was on the court for every Iowa run. But it doesn't reflect her great contributions to this win.
Well, that was a sight for sore eyes. Ducharme was back to her old self in this game. At least really close. She played 24 minutes and was 5-11 from the field. It was good to see her take so many shots. And going 3-6 on threes? She can become that third three point threat the team needs. Her stat line was terrific with 15 points, 5 rebounds, 3 assists, 3 steals and 2 blocks. She just finds a way to be productive and she certainly did that in this game. Both offensively and defensively. I can't wait to see her build on this effort.
Caroline -
"It's frustrating. Last year I was dealing with my hip all season, and then this neck injury, it's hard to kind of know. Some days are really good, some days are bad, so I'm just trying to manage that."
Edwards - "Ohhh, she's back"
Fudd - "It was great to see her play like that. She's going to be able to build on this. It's been great to have her back, but to see her with that confidence, I bet she feels great, just like a weight was lifted off her shoulders to be able to play like her old self again."
There were no Iowa game shots of Ayanna so I grabbed this one from the Texas game. Look at the box out position she takes. Perfect. Against Iowa she played only 7 minutes but it was a really productive 7 minutes. She scored 4 points on 2-2 shooting, with 3 rebounds and one offensive rebound. But her big contribution was her defense on the Iowa big Czinano. She played her tough and although giving away some size, she never back down. More to come from this young lady.
Wow.....what can I say about this team. They are solidly in third in the latest AP poll just a smidgen behind Stanford. This after starting the season at No. 6. No team has the amount of wins against Top Ten teams as UConn. And after a game against a Big East opponent in Providence, they travel to South Bend for a tough game against No. 7 Notre Dame. This will be a big challenge, especially without Dorka there for some height against a big Irish team.
I have to say something about the Men's team who beat Iowa State in the finals of the Men's Phil Knight Invitational tournament, winning all three games by double digits. They went from No. 20 to No. 8 in the country. I can't remember the last time they were this high in the rankings. Congrats guys!!!